In the fast-paced world of real estate, success goes beyond closing deals. It lies in building connections, understanding clients' needs, and providing exceptional service. In this blog post, I am thrilled to share a recent testimonial from a family who experienced my unwavering dedication as their real estate agent. Join me as we delve into their story and explore how my commitment to going the extra mile made a lasting impact on their lives.
Meeting the Family: At an open house for a property they were considering, I had the pleasure of meeting a family who had recently moved from Victoria to Hervey Bay. They were in search of a spacious family home to accommodate their growing children. Little did I know that our encounter would set the stage for an extraordinary journey.
Seizing Opportunities: During our conversation, I sensed their hesitation about selling their current unit, as they hadn't yet explored that option. Inspired by their aspirations, I offered to appraise their unit for sale. To my delight, they agreed, and within a few days, I presented them with an estimated selling price that exceeded their expectations. Excited about the possibilities, they were eager to proceed and sell their unit as soon as possible.
Efficiency and Results: With no time to waste, I sprang into action. Photography was scheduled the following day, and the listing went live shortly thereafter. To my delight, the property immediately garnered interest, and within five days, we received an offer at the listing price. The family found themselves in urgent need of a new place to call home.
Finding a New Home: Fortuitously, I had been in contact with another family who were contemplating selling their current home as they were nearing completion of their newly built residence. Although their new home was not yet ready, I seized the opportunity to show it to the family in need. Through skillful negotiations, we secured a successful outcome, ensuring they had a place to move into without delay.
A Remarkable Testimonial: In light of my dedicated service throughout the entire process, the family graciously provided a glowing testimonial. They commended my knowledge, friendliness, and prompt responsiveness to their questions during the settlement process. They recognised my professionalism and the positive impact I made on their real estate journey.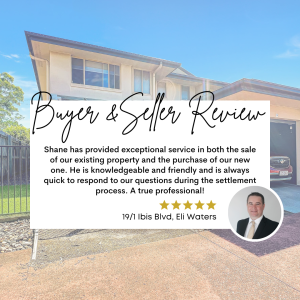 This heartwarming story underscores the power of exceptional service in the realm of real estate. By going above and beyond, I transformed a chance encounter at an open house into a life-changing experience for a family in need. My unwavering dedication, industry expertise, and sincere care for my clients left a lasting impression that extended far beyond a mere transaction.
This testimonial serves as a testament to my commitment to excellence and my ability to make a positive difference in the lives of those I serve. As a real estate agent, it is not only about buying and selling properties; it is about helping families find their dream homes and creating experiences that will be cherished for a lifetime.
In an ever-evolving industry, stories like these remind us of the significance of building meaningful connections, understanding clients' needs, and delivering exceptional service. By prioritising people and their aspirations, real estate professionals have the privilege of making a lasting impact on families and communities, just as I did in this remarkable case.
Ultimately, it is not only the properties we sell but the difference we make in the lives of those we serve that defines our success as real estate agents. I am truly grateful for the opportunity to have made a positive change in this family's life and look forward to continuing to serve and make a difference in the lives of others.